In Preparation
How to Stay Safe and Secure Online
for the Older Generation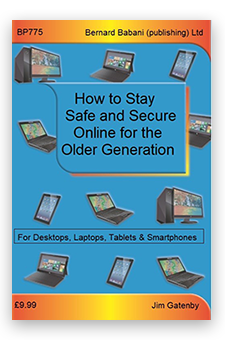 Babani Number: BP775
Author: Jim Gatenby
Price: £9.99
ISBN: 978 0 85934 775 4
192 pages
Published: TBA
Whether you use a Desktop, Laptop, Tablet or Smartphone, if you are connected to the Internet you are at risk!
Computer fraud is a worldwide problem with people trying to hack into your device to obtain your personal, financial and commercial details for their own dishonest purposes. They have a multi-tude of clever and devious ways of doing this!
To increase your level of protection you can install or activate security software, back up regularly and following the practical advice clearly explained in this book.
Especially written for the older generation who may have little knowledge of computing and the various types of computer scams, phishing and fraud being used. It is written in plain English and avoids technical jargon wherever possible. Covers Android and Windows 10 devices and where applicable iPads and iPhones.
Among the many topics covered are:
• Activating and setting inbuilt antivirus, third party software and firewalls.
• Choosing and setting passwords and using facial and fingerprint recognition.
• Setting devices and software to automatically update.
• Backing up your files and using external back up devices and the 'Cloud'.
• Safety precautions when opening e-mails and surfing the Internet.
• Safety precautions when sharing files and data and encryption of data messages.
• Advice on using portable devices around public Wi-Fi hotspots.
• Physical security of mobile devices including tracing and blocking lost phones.
• Advice when entering bank account details and confidential information online.
• And much more besides…
Cloud Computing for Everyone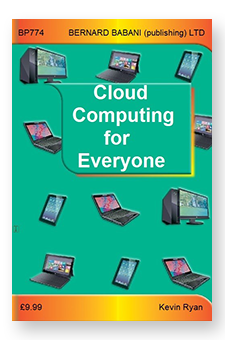 Babani Number: BP774
Author: Kevin Ryan
Price: £9.99
ISBN: 978 0 85934 774 7
192 pages
Published: TBA
With the ever-increasing power and portability of mobile devices and the need by individuals and organisa-tions for easy access to information, a knowledge of 'Cloud Computing' is becoming increasingly important.
Software and files that you traditionally installed or stored on your computing device are now available to store and use on the internet so making them available either at home or while you are travelling and also for sharing.
This practical book assumes no prior knowledge of the subject and explains clearly in non-technical terms everything you are likely to need to know to get to grips with 'cloud computing'. Troubleshooting tips to help you overcome many of the common issues are included.
With a few minor exceptions all the services covered in the book are available on Windows, Apple and An-droid devices.
Among the many topics covered are:
• Understanding what 'Cloud Computing' means and how to set it up.
• Getting the best from it without compromising ease of use, accessibility and security.
• Identifying reputable providers and the services they can offer and any hidden pitfalls.
• Sharing documents, pictures and other information securely.
• How to continue working even when the internet is unavailable.
• Microsoft's online services: OneDrive, Office online and Office 365.
• Google's online services: Google Docs, Drive, Sketchup, Gmail, Hangouts and Calendar.
• Amazon services as part of 'Prime' subscription.
• Apple services for their own devices and those available on Windows and Android.
• Storage services from Box and Dropbox.
• Online printing services.
• And much more besides…
Making the Most of Your Android Phone
Babani Number: BP773
Author: Jim Gatenby
Price: £9.99
ISBN: 978 0 85934 773 0
192 pages
Published: April 2018
As well as covering in detail the making, receiving and managing calls across the 3G and4G cell phone networks, the Android phone is also capable of performing the same wide range of general computing activities possible with tablet computers. The book is divided into two major sections:

Section A: Setting Up and Using the Phone.
Introducing the Android smartphone
Choosing a cell phone network – contract or Pay-As-You-Go Setting up a new phone
Connecting to Wi-Fi
Using the on-screen keyboard
Creating accounts for Gmail, e-mail etc
Making, receiving and managing calls
Managing your contacts
Sending and receiving text and voice messages
Transferring Contact lists to a new phone
The dangers of data roaming
Tracing a lost or stolen phone.
Section B: Using the Android Phone as a Versatile Computer
(Also applies to the latest Android tablets) Entertainment – music, videos, eBooks etc.
Installing and managing apps from the Play Store
Browsing the Internet
Using mobile data and hotspots
Using e-mail, Skype, WhatsApp and Social Networking Taking, editing and sharing photos and videos
Cloud computing with Dropbox, OneDrive and Google Drive Printing using ePrint and Google Cloud Print
Security issues.
Latest News