In Preparation
Python Coding on the BBC micro:bit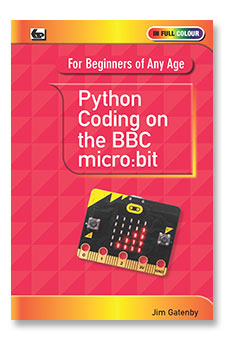 Babani Number: BP771
Author: Jim Gatenby
Price: £7.99
ISBN: 978 0 85934 771 6
128 pages
Published: October 2017
Python is a programming language that can be used by beginners to coding as well as experienced computer programmers. The version of Python that is used on the BBC micro:bit is called MicroPython which is a full implemen-tation of Python 3. So if you wish to advance to more advanced machines you will use the same language that you are familiar with.

The book will show you how to download the 'Mu' MicroPython Editor (and any necessary drivers you might need) so as to be able to check your pro-grams after you have written them.

This book will explain in plain, simple English the basic skills needed to start coding in Python which is easy to learn yet powerful enough for demanding professional and scientific applications. It has a number of worked program examples that introduce progressively more aspects of coding.

Suitable for beginners of any age!
Build Your Own Website with WordPress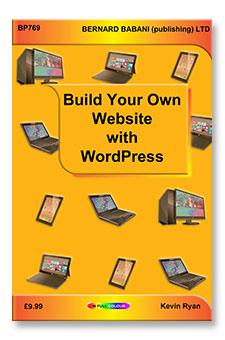 Babani Number: BP769
Author: Kevin Ryan
Price: £9.99
ISBN: 978 0 85934 769 3
192 pages
Published: September 2017
WordPress is a software package widely used to create stunning websites. It is issued under an open-source licence making it FREE to install and use. The WordPress software almost looks after itself leaving you to focus on creating great content.

This book assumes no prior knowledge of how to create a website and has many step-by-step guides and checklists to help you. There are some troubleshooting appendices to help you fix many of the common issues. If you can use a web browser, you can create a website using WordPress.

Among the many topics covered are:
 An overview of website terminology
 Creating a plan for your web pages.
 WordPress components such as themes, widgets and plugins.
 Choosing a web host and installing and finding your way around WordPress.
 Using the built-in editor to create your first post.
 The sections of a theme and the importance of menus.
 Responsive websites and why that is important for tablet and mobile users.
 Customising a theme .
 Extend your website by adding more pages.
 Enhance a website by adding plugins.
 Using Permalinks and creating links to external sites.
 Working with images and other media.
 Controlling who can post or comment on your content.
 Troubleshooting and maintaining the website's security.
 And much more besides…
How to Make and Enhance Your Videos for the Internet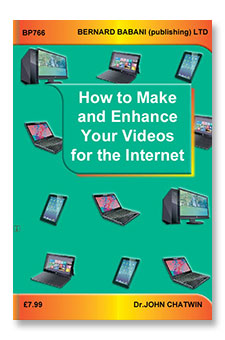 Babani Number: BP766
Author: Dr John Chatwin
Price: £7.99
ISBN: 978 0 85934 766 2
128 pages
Published: August 2017
A practical guide for anyone who makes and posts videos to the internet and wants to make them look and sound as professional as possible and hope-fully go viral!

Mainly aimed at the smartphone and tablet user as these devices have surprisingly sophisticated high quality video capabilities. However, the material in the book should also be applicable to digital camera users.

The book will show you how to get the most out of your equipment and accessories. How to easily obtain and use free software and apps which can enhance your videos both visually and audibly.

Covered are the basics of shooting videos such as steady shots, panning, close ups, lighting and how to set up for professional interviews or 'talking head' sequences, etc. Also covers sound recording enhancement and adding external audio such as music and sound effects. And much more besides...
Latest News