Just Published
Making the Most of Your Android Phone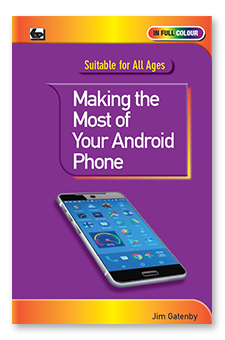 Babani Number: BP773
Author: Jim Gatenby
Price: £9.99
ISBN: 978 0 85934 773 0
192 pages
Available Now
As well as covering in detail the making, receiving and managing calls across the 3G and4G cell phone networks, the Android phone is also capable of performing the same wide range of general computing activities possible with tablet computers. The book is divided into two major sections:

Section A: Setting Up and Using the Phone.
Introducing the Android smartphone
Choosing a cell phone network – contract or Pay-As-You-Go Setting up a new phone
Connecting to Wi-Fi
Using the on-screen keyboard
Creating accounts for Gmail, e-mail etc
Making, receiving and managing calls
Managing your contacts
Sending and receiving text and voice messages
Transferring Contact lists to a new phone
The dangers of data roaming
Tracing a lost or stolen phone.
Section B: Using the Android Phone as a Versatile Computer
(Also applies to the latest Android tablets) Entertainment – music, videos, eBooks etc.
Installing and managing apps from the Play Store
Browsing the Internet
Using mobile data and hotspots
Using e-mail, Skype, WhatsApp and Social Networking Taking, editing and sharing photos and videos
Cloud computing with Dropbox, OneDrive and Google Drive Printing using ePrint and Google Cloud Print
Security issues.
An Introduction to the iPad with iOS11
Babani Number: BP772
Author: Andrew Edney
Price: £7.99
ISBN: 978 0 85934 772 3
128 pages
Published: Available Now
If you have never used an iPad before or perhaps are changing from an Android or Windows device, then you may find the iPad different enough to be confusing.
This easy-to-understand book is suitable for all age groups from youngsters to the older generation as it clearly explains, with numbered step-by-step instructions, essential operations and functions.
Among the many topics covered are:
• A brief look at the iPad
• Configuring your iPad for the first time
• Connecting your iPad to your home network
• Using e-mails and surfing the Internet
• Exploring features of iOS11
• Getting and installing software from the Apple App Store
• Backing up your iPad
• Making video calls with FaceTime
• Simple troubleshooting
• And more beside
This book will help you to understand and make the most of your iPad running iOS11. Also, much of the material in this book will apply to iPhones with iOS11.
Build Your Own Website with WordPress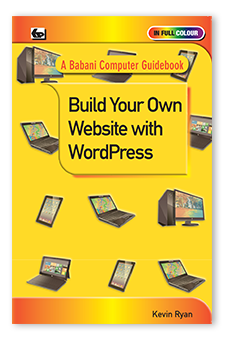 Babani Number: BP769
Author: Kevin Ryan
Price: £9.99
ISBN: 978 0 85934 769 3
192 pages
Published: Available Now
WordPress is a software package widely used to create stunning
websites. It is issued under an open-source licence making it free
to install and use. WordPress can be used to create all types of
websites including personal, blogs, information, community and online
businesses. WordPress software almost looks after itself leaving you to
focus on creating great content.
Among the many topics covered are:
• An overview of website terminology and planning your web pages.
• WordPress components such as themes, widgets and plugins.
• Getting started by choosing a web host and installing WordPress.
• Logging in, setting up and maintaining security and activating
essential plugins.
• Finding your way around the Settings Dashboard.
• The theme sections: header, body, sidebars and footer.
• Editing and adding to menus.
• Customising a theme.
• Enhancing a website by adding plugins or changing to a new theme.
• Using Permalinks and creating links to external sites.
• Working with images and other media.
• Controlling who can post and comment on your content.
This book assumes no prior knowledge of how to create a website
and has many step-by-step guides and checklists to assist you. There
are troubleshooting appendices to help you fix many of the common
problems that may arise. If you can use a web browser, you can create
a website using WordPress.
How to Make and Enhance Your Videos for the Internet
Babani Number: BP766
Author: John & Oscar Chatwin
Price: £7.99
ISBN: 978 0 85934 766 2
128 pages
Published: Available Now

• This book will help you to make and upload better videos to the Internet, even if you use a Smartphone or inexpensive digital camera to shoot them.
• Whether your videos are simple vlogs and interviews, or more complicated productions such as demonstration or gaming videos, there are basic techniques you need to know if you want your videos to look and sound as professional as possible.
• The mainly free software packages majored on are Hit Film 4 Express for video editing, Audacity for audio editing and Bandicam for capturing gaming videos.
Other packages are also considered.
• Simple lighting, audio recording techniques and the use of Smartphone apps for digital recording are also explained.
Python Coding on the BBC micro:bit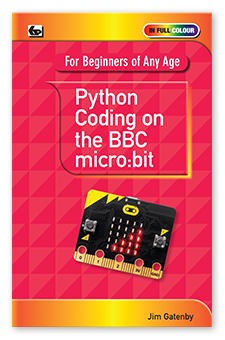 Babani Number: BP771
Author: Jim Gatenby
Price: £7.99
ISBN: 978 0 85934 771 6
128 pages
Published: Available Now
Python is a leading programming language, easy to learn and widely
used by professional programmers. This book uses MicroPython, a
version of Python adapted for the BBC micro:bit.
Among the many topics covered are:
• The main features of the BBC micro:bit including a simulation in a
Web browser screen.
• The various levels of programming languages.
• The Mu Editor for writing, saving and retrieving programs, with
sample programs and practice exercises.
• REPL, an interactive program for quickly testing lines of code.
• Scrolling messages, creating and animating images on the micro:bit's
LEDs.
• Playing and creating music, sounds and synthesized speech.
• Using the on-board accelerometer to detect movement of the
micro:bit on 3 axes.
• A glossary of computing terms.
This book is written using plain English and avoiding technical jargon
wherever possible and covers many of the coding instructions and
methods which are common to most programming languages. It should
be helpful to beginners of any age, whether planning a career in
computing or writing code as an enjoyable hobby.
Getting Started with the BBC micro:bit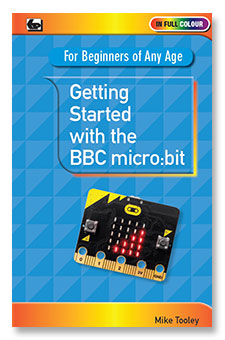 Babani Number: BP770
Author: Mike Tooley
Price: £7.99
ISBN: 978 0 85934 770 9
120 pages
Available Now
Not just an educational resource for teaching youngsters coding, the BBC micro:bit is a tiny low-cost, low-profile ARM-based single-board computer. The board measures a mere 43mm × 52mm but despite its diminutive footprint it has all the features of a fully-fledged microcontroller together with a simple LED matrix display, two buttons, an accelerometer and a magnetometer.
Mike Tooley's new book shows how the micro:bit can be used in a wide range of applications that include simple domestic gadgets to more complex control systems such as those used for lighting, central heating and security applications. Using Microsoft Code Blocks, the book provides a progressive introduction to coding as well as interfacing with sensors and transducers.
Each chapter concludes with a simple practical project that puts into practice what the reader has learned. The featured projects include an electronic direction finder, frost alarm, reaction tester, battery checker, thermostatic controller and a passive infrared (PIR) security alarm.
No previous coding experience is assumed, making this book ideal for complete beginners as well as those with some previous knowledge. Self-test questions are provided at the end of each chapter together with answers at the end of the book. So, whatever your starting point, this book will take you further along the road to developing and coding your own real-world applications.
Latest News