Just Published
Getting Started with the BBC micro:bit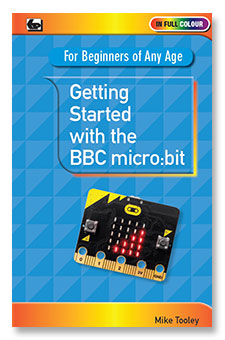 Babani Number: BP770
Author: Mike Tooley
Price: £7.99
ISBN: 978 0 85934 770 9
120 pages
Available Now
Not just an educational resource for teaching youngsters coding, the BBC micro:bit is a tiny low-cost, low-profile ARM-based single-board computer. The board measures a mere 43mm × 52mm but despite its diminutive footprint it has all the features of a fully-fledged microcontroller together with a simple LED matrix display, two buttons, an accelerometer and a magnetometer.
Mike Tooley's new book shows how the micro:bit can be used in a wide range of applications that include simple domestic gadgets to more complex control systems such as those used for lighting, central heating and security applications. Using Microsoft Code Blocks, the book provides a progressive introduction to coding as well as interfacing with sensors and transducers.
Each chapter concludes with a simple practical project that puts into practice what the reader has learned. The featured projects include an electronic direction finder, frost alarm, reaction tester, battery checker, thermostatic controller and a passive infrared (PIR) security alarm.
No previous coding experience is assumed, making this book ideal for complete beginners as well as those with some previous knowledge. Self-test questions are provided at the end of each chapter together with answers at the end of the book. So, whatever your starting point, this book will take you further along the road to developing and coding your own real-world applications.
Windows 10
Anniversary
Update
Explored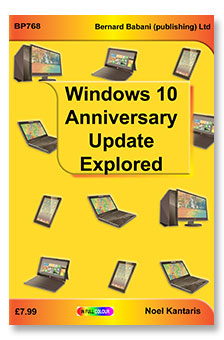 Babani Number: BP768
Author: Noel Kantaris
Price: £7.99
ISBN: 978 0 85934 768 6
96 pages
Available Now
After its first year in general use Microsoft's Windows 10 has now had a major make-over known as the 'Anniversary' update. Over this first year Microsoft has received feedback from hundreds of thousands of initial users and has incorporated their comments and suggestions, likes and dislikes into the new Anniversary update so making Windows 10 a better, more usable and friendly product. The 'Anniversary' update is available free to download.

This book is a companion volume to Windows 10 Explained (9780859347570) by Noel Kantaris. It does not cover the same material unless it has been altered considera-bly. It concentrates on exploring and explaining important new or modified features.

Among the many topics covered are:
Installing the upgrade
New Windows menus
What is new in Cortana
Taskbar and System Tray
File Explorer and OneDrive
Edge Browser
And more besides...
Social Networking
with
Facebook and Twitter
for the
Older Generation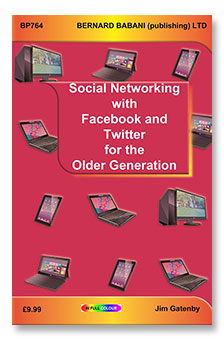 Babani Number: BP764
Author: Jim Gatenby
Price: £9.99
ISBN: 978 0 85934 764 8
192 pages
Available Now
The two most popular Social Networking websites are Facebook and Twitter. They are now easily accessible on desktop, laptop and tablet computers and ,also, smartphones. All you need is one of these devices and an internet or 3G / 4G connection to be able to keep in touch with family and friends wherever they may be in the world.
Written especially for the over 50s, who may have little experience in using a computer, tablet or smartphone. It explains in plain English how to enjoy and benefit from using Facebook and Twitter with confidence and security. The book also applies to all other age groups.
The first part of the book shows you how to get started with Facebook, enabling you to build up a list of Facebook friends. By entering your personal profile you can make friends with other people having a similar background and interests and exchange news and information.
The book then describes Twitter which allows you to quickly post off short, concise text messages called 'Tweets' for your followers to read and respond to. Followers could include your own family and friends. You may also choose to follow the 'Tweets' of well-known people and celebrities or contribute your views to popular causes and debates.
An Introduction
to the iPad
with iOS10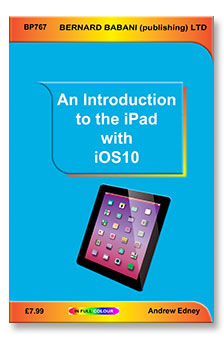 Babani Number: BP767
Author: Andrew Edney
Price: £7.99
ISBN: 978 0 85934 767 9
128 pages
November 2016
Apple iPads and iPad minis are becoming increasingly popular and with the release of the latest version of Apple's operating system iOS10, more people than ever are using them. If you are one of these people, then this book is for you.

This book will guide you through setting up and using your iPad for the first time. It will provide you with many useful hints, tips and warnings about possible pitfalls you may encounter. The book is written in plain English and avoids technical jargon wherever possible and, also, has many easy to follow 'step-through' instructions.

Among the many topics covered are:
 A brief look at the iPad.
 Configuring your iPad for the first time.
 Connecting your iPad to your home network.
 Working with e-mail and surfing the Internet.
 Exploring features of iOS10.
 Getting and installing software from Apple's App Store.
 Backing up your iPad.
 Making video calls with FaceTime.
 Simple troubleshooting.
 And more besides…

This book will help you make the most of Apple's powerful new operating system installed on your iPad.
Understanding Excel Spreadsheets
For Everyone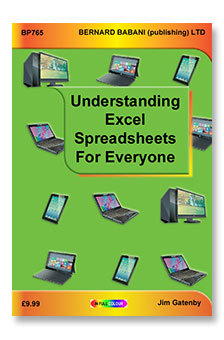 Babani Number: BP765
Author: Jim Gatenby
Price: £9.99
ISBN: 978 0 85934 765 5
192 pages
Available Now
The practical and friendly approach of this book makes understanding and learning to use spreadsheets easy. It is based on Microsoft's Excel spread-sheets that are part of Office 2016 and Office 365 which are installed on many new computers and tablets and are also freely available as downloads and apps.

The book is written in plain English, avoiding technical and mathematical jar-gon wherever possible. It includes many clearly explained step-by-step ex-amples to help you gain confidence and understanding of spreadsheets. In fact you may well wonder how you ever managed without them !
The book applies to all types of computer—desktop, laptop, tablets and even smartphones.

The book has been written for all age groups from children to the older gen-eration.
Android Tablets & Smartphones for All Ages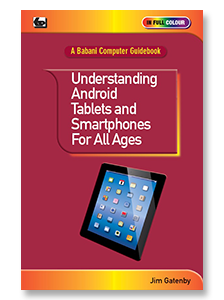 Babani Number: BP763
Author: Jim Gatenby
Price: £9.99
ISBN: 978 0 85934 763 1
192 pages
Available Now
This book is especially written for new users of Android tablets and smartphones. It uses plain English and avoids technical jargon wherever possible. All versions of Android generally function in the same way, but where there are differences these are explained in the text.
Among the many topics covered are:
An overview of the Android family.
Setting up, connecting to the Internet and signing up for Gmail.
Use of the touch screen and on-screen keyboard and navigating around various screens.
Changing the screen colours.
Installing and managing Google Play Store apps and preventing unwanted In-app purchases.
Enjoying entertainment, such as eBooks, music and videos.
Web browsing and searching for information.
Using e-mail, Skype, WhatsApp and Social Networking.
Taking and sharing photos.
Using Google Drive to save your files in the "clouds ".
Using Google Docs, Word and Excel for word processing and spreadsheets.
Printing using ePrint and Google Cloud Print, etc.
Security measures.
Importing and exporting files and connecting external devices.
And more besides…

This book will help you to easily acquire the basic skills needed to understand and make the most of an Android tablet or smartphone.
eBay for Everyone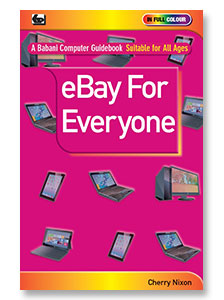 Babani Number: BP760
Author: C. Nixon
Price: £7.99
ISBN: 978 0 85934 760 0
128 pages
Available Now
eBay is an online auction site that enables you to buy and sell practically anything from the comfort of your own home. eBay offers easy access to the global market at an amazingly low cost and will enable you to turn your clutter into cash!
This book is an introduction to eBay and has been specifically written for those who have little knowledge of computing. The book contains ideas for getting organised for long term safe and successful trading. You will learn how to search and buy every conceivable type of thing. How to create auctions and add perfect pictures and how to avoid the pitfalls that can befall the inexperienced. The use of eBay Apps for mobile devices such as tablets and smart phones is also included.
eBay has undergone considerable change recently, probably the greatest since its inception, so many people may now be in need of some guidance. Cherry Nixon is probably the most experienced teacher of eBay trading in the UK and from her vast experience has developed a particular understanding of issues and difficulties often encountered by individuals
Microsoft Office 2016 Explained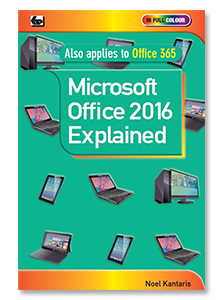 Babani Number: BP762
Author: Noel Kantaris
Price: £9.99
ISBN: 978 0 85934 762 4
256 pages
Available Now
This book is based on the Home and Business edition of Microsoft's Office 2016 PC-based software. It will also be very useful to Office 365 users, as a large part of this subscription and cloud-based package is based on Office 2016.
The book covers Word, Outlook, Excel, PowerPoint and OneNote all of which can be used on Desktop, Laptop and Tablet devices with mouse or touch-screen control.
Each application within the 'Home and Business' edition of Office 2016: Word, Excel, PowerPoint, OneNote and Outlook is introduced with sufficient detail to get you working. No prior knowledge of these applications is assumed and easy-to-follow hands-on examples are included that should help you get to grips with Office 2016 quickly and easily.
An indispensable companion to anyone using Office 2016 ( or Office 365) for the first time or has used a previous edition of Microsoft's Office and is updating to this latest version.
Windows 10 for the
Older Generation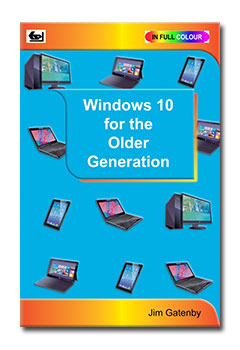 Babani Number: BP758
Author: Jim Gatenby
Price: £9.99
ISBN: 978 0 85934 758 7
192 pages
Available Now
Windows 10 is the latest version of Microsoft's operating system. It will be available as a FREE upgrade to Windows 7, Windows 8 and Windows 8.1 machines as well as being installed on new computers. To get the most from your computer you need to have a good understanding of it's operating system.

This book has been written for the Older Generation who may be new to computing and need a book that is easy to understand, written in plain English and is not at all intimidating. It also applies, of course, to all other age groups.

This book will help you to upgrade, install and set up Windows 10 for your personal preference. It also covers the practical use of this operating system with it's new Start menu, icons and features such as Cortana personal assistant, new web browser, Con-tinuum for touch screen control etc.

This book will easily and quickly get you started with Windows 10 whether you have just purchased a new Windows 10 computer or are upgrading an existing machine.
Latest News